Riley, with family in CT
Dear Lea Ann,
Thank you so much for such a fantastic puppy! We fell in love with Riley immediately. He is so sweet and affectionate. It's obvious he came from a very happy place. He's also very spunky, just like you said! Riley has adjusted to his new live in CT very quickly.
We really appreciate you making the process of getting him so easy for us .It was a pleasant experiece and the bonus is that we now have a second wonderful dog in our home!
Take care,
Jill and Paul
2018-04-07T16:34:25-05:00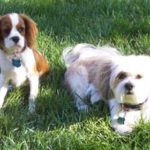 Dear Lea Ann, Thank you so much for such a fantastic puppy! We fell in love with Riley immediately. He is so sweet and affectionate. It's obvious he came from a very happy place. He's also very spunky, just like you said! Riley has adjusted to his new live in CT very quickly. We really appreciate you making the process of getting him so easy for us .It was a pleasant experiece and the bonus is that we now have a second wonderful dog in our home! Take care, Jill and Paul
http://lostcreekcavaliers.com/testimonials/riley-with-family-in-ct/