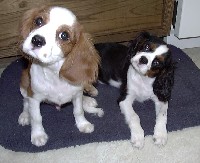 Freddie and Tigger
Lea Ann,
Here are a couple pictures that I had promised to send a few days ago. Freddie and Tigger are wonderful. They are about even right now when it comes to dominance, but Tigger definitely has more attitude. Last night he kept barking at himself in the mirror. He is so entertaining to watch. 
Freddie weighs about a pound more and I can sure tell he is growing up! I have to loosen his harness every few days now. He still walks with me 3 times a day to the bus stop.
We are so happy with both of them.
Well, I am about to start my daily job hunt. I'd much rather stay with the puppies and boys….but, you know.
Cristy
2018-04-07T16:41:39-05:00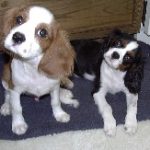 Lea Ann, Here are a couple pictures that I had promised to send a few days ago. Freddie and Tigger are wonderful. They are about even right now when it comes to dominance, but Tigger definitely has more attitude. Last night he kept barking at himself in the mirror. He is so entertaining to watch. Freddie weighs about a pound more and I can sure tell he is growing up! I have to loosen his harness every few days now. He still walks with me 3 times a day to the bus stop. We are so happy with both of them. Well, I am about to start my daily job hunt. I'd much rather stay with the puppies and boys….but, you know. Cristy
http://lostcreekcavaliers.com/testimonials/freddie-and-tigger/